ABOUT
"Summertime", as the song goes, is the time of year when "the living is easy". We all know that little lift in energy and wellbeing that comes from the sunshine and the long evenings. It's a time for being fully awake and aware of the beauty and life all around us. A Day of Mindfulness is a day of quietening down and becoming still so that we can wake up fully and truly smell the flowers. In the beautiful natural surroundings of Glenhordial Farm we will be combining our practice of mindfulness with the elements of nature, community, good food and creativity. In the warm bright spaces of the Bamboo Loft we will enjoy times of meditation and creativity and be nourished by a 'bring and share' lunch that usually turns into a veritable feast that we can share together joyfully.
WHO IS THIS FOR?
This day is for YOU... whether you are new to mindfulness or already have a practice. Every moment is the only moment there is and every moment is a new beginning. That means that we are all beginners and in coming together just as we are, letting go of any expectation or judgement we find ourselves able to enjoy just being, breathing and belonging together for a day in the heart of the countryside where all of nature is offering itself to our imaginations, helping us to recognise that were are part of something infinitely bigger than ourselves that is always there breathing new life into our lungs and reminding us that we belong.
WHO COULD ASK FOR ANYTHING MORE!
ADDITIONAL INFORMATION
The day will be hosted by Marella Fyffe and led by Maria Garvey. Marella will lead the deep relaxation mindful movement session. For those who wish to join on the day the cost is £35. Those who have participated in our MBSR in previous years the cost is £30.
For further details or to register interest please contact Marella at marella.fyffe@gmail.com or Maria at maria@kridyom.uk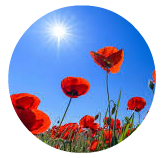 ... AND AWAKEN TO THE PURE JOY OF SUMMER.